Spain is full of charming cities with mesmerizing architecture, places of historic significance, plazas, palaces, and of course also restaurants with amazing food. Many of these cities in Spain are the product of different cultures that forged them. Their history made all of them unique and interesting, so there are more than enough reasons to visit all of them.
However, few travelers get the chance to visit all the bigger cities in Spain, which makes it great to have an overview of the best ones. And while I firmly believe that many more places are worth a visit, these 13 are the best cities to visit in Spain.
Discover the best things to do in these great Spanish cities, how long to stay there, which hotels are great, and other useful travel tips like the best restaurants or hidden gems that most tourists tend to miss.
Visit the Best Cities in Spain
Since my first trip to Spain at the age of 20, I have been fortunate enough to visit the country more than 10 times. And while I spend around two months in the country over the course of these trips, it often feels like I have barely seen anything at all.
There are islands I know quite well like Mallorca and Gran Canaria, and cities that I have visited several times like Barcelona, Madrid, and Valencia, but I am more than aware of the fact that there are more amazing cities in Spain.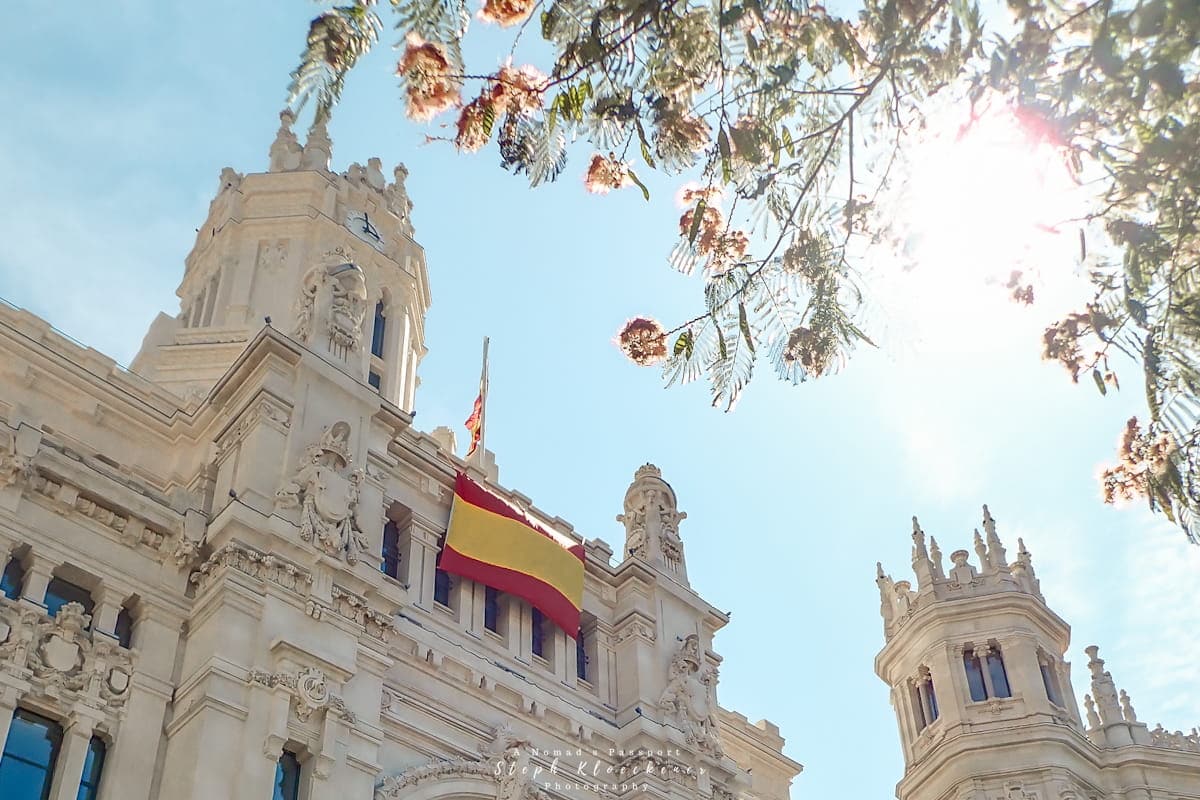 For that reason, I have asked fellow travelers to share their travel tips concerning cities I have yet to see or not explored enough to write about them.
Hopefully, this list of Spanish cities will help you find the ideal destination for your next trip – be it to the Spanish mainland, the Balearic Islands, or the Canary Islands.
This post may contain affiliate links, which means I may receive a commission, at no extra cost to you, if you make a purchase through a link. Please see the full disclosure for further information.
Madrid
As the Spanish capital city, and with all its attractions, Madrid is one of the best cities in Spain. It has stunning buildings like the Metropolis Building, a Royal Palace, museums and even a beautiful park. And while you can see the highlights of Madrid in two days, a slightly longer stay is ideal.
Check out Museo Nacional del Prada with its impressive collection of artworks from the 12th to 19th century and then head to El Retiro Park. This park is not only a great place to relax and take a stroll but also boasts some worthwhile attractions.
Be sure to visit the Palacio de Cristal and the Monument to Alfonso XII. You can also rent a boat and row around El Retiro Lake.
Another great thing to do in Madrid is visiting Plaza Mayor and grabbing some churros from Chocolatería San Ginés, before walking through Mercado de San Miguel. You can also tour the Royal Palace and its gardens, and visit the crypt of Catedral de Santa María la Real de la Almundena.
If you want to see something unexpected while exploring this great Spanish city, you should visit the Egyptian Temple de Debod.
Where to stay: The Room Mate Alba is a great 4-star hotel with a sustainable concept.
Barcelona
As home of some of the best Spanish landmarks, Barcelona is also one of the best cities in Spain. While it is far from an off-the-beaten-track destination, and nearly overrun by tourists in summer, it is a more than worthwhile destination. From its Gaudi buildings to beaches, Barcelona has it all.
The biggest highlight is the Sagrada Familia, but other Gaudi buildings like Park Güell, Casa Milà, and Casa Batlló should also be on every Barcelona itinerary and Spain bucket list.
Other great places not to be missed include the Palau de la Música Catalana, the trendy El Born neighborhood, and La Rambla street. You can also walk from Plaça d'Espanya to Museu Nacional d'Art de Catalunya. You will walk through the Torres Venecianes and along the Water Fountains Walkway.
Where to stay: While they are not in the city center, the Renaissance Barcelona Fira and the AC Hotel by Marriott Forum are great places to stay in the Spanish city. If you want to stay in the city center, Hotel Margot House across the street from Casa Batlló is great.
Palma
Palma is located on the island of Mallorca and has a lot to offer. With its museums, the "La Seu Catedral" and other historic buildings, it is the ideal place for an extended weekend.
The best things to do in Palma include touring the cathedral, exploring Castell de Bellver with its round courtyard, and visiting the Royal Palace of La Almudaina.
Other great places to see are Plaza Mayor, Jardin del Bisbe, and the Arab baths that date back to the Moorish rule.
S'Hort del Rei with its fountains is also nice and should be seen when walking from Parc de la Mar to Passeig del Born, the historic shopping street.
You can also visit the Es Baluard museum of contemporary art. Look towards the cathedral as you walk there – the view is great!
If you are a foodie, you should visit this amazing city in Spain during Ta Palma. The tapas festival takes place in November and restaurants compete for the best tapas and cocktails. During the rest of the year, you can enjoy great food at the many amazing restaurants in Palma. 'Born 8' has amazing international food, and 'Bar España' is the place to go for tapas. If you are vegan, you will love 'Temple Natura Cafè'.
Where to stay: While there are many great hotels in Palma, Can Cera Mallorcan Luxury House is exceptional. The 5-star hotel is in the city center and a 17th-century palace.
Las Palmas
Exploring Las Palmas is one of the best things to do in Gran Canaria, and as you stroll through the streets you will see why. With its location right at the ocean, it has a great snorkeling spot, and other parts of the city are full of colonial architecture ad great restaurants.
The highlights of Las Palmas can be found in La Vegueta. This historic neighborhood is the location of the Santa Ana Catedral, Casa de Colón at Columbus Square, Plaza del Espíritu Santa, and the Museo Canario. Be sure to visit the rooftop of the cathedral when you explore the area.
Triana also has some historic areas, but it is most known for its shopping street. There are also a lot of great restaurants like '200 Gr. Burger'.
If you want to relax at the beach or snorkel, Playa de Las Canteras is the place to go. And if you want a short break from the city, you should visit La Isleta Nature Reserve that borders the north of the city.
Where to stay: The Boutique Hotel La Peregrina is located in Triana and is one of the nicest hotels in Gran Canaria. While the rooms are on the smaller side, it is in a great location and has a rooftop pool. If you want a luxurious hotel, Hotel Santa Catalina next to Doramas Park is the ideal place to stay.
Seville, a great city in Spain
Seville ('Sevilla') is in Andalusia and is one of the most charming cities in Spain. It is a great destination for a weekend getaway, but also offers more than enough great spots for four to five days.
The main highlight of this Spanish city is the Real Alcazar, a royal palace that dates back to the time of Moorish rule, and that has been extended over the centuries. Therefore, it also has Gothic, Renaissance, and Romanesque elements. The Cathedral of Seville and the Archivo de Indias are near the Alcazar and also worth a visit. Consider touring the rooftop of the cathedral.
Be sure to go to Plaza de España. If you want to, you can rent a boat and row over the small canal. Plaza del Cabildo with its fountain is much smaller, but also a pretty sight.
To see the more modern side of Seville, you should visit the 'Setas de Sevilla'. The mushroom shapes structure is a rather peculiar sight and doubles as a walkway from which you have a nice view over the city.
Check if there are any concerts in the Moroccan Pavilion while you are in the city. It was built for Expo 1992 and has great acoustics. And of course, it is also a rather interesting building that does seem out of place in a city with a Moorish past.
Where to stay: Hotel Cervantes, a charming 4-star hotel that is set around a courtyard, and Hotel Patio de las Cruces in the Jewish Quarter are great accommodations in the city center.
Granada
One of the best cities in Spain is Granada, famous for the Alhambra fortress, castle, and gardens. But there is so much more to Granada.
Boasting a vibrant old town with narrow, cobblestoned streets, white houses with colorful flowers decorating the walls, and rich Moorish heritage, Granada is as enchanting as any white village in Andalucia, only with so much more to do.
To get the most of Granada, spend a week, exploring the cathedral, seeing the sunset over the Alhambra from Mirador de San Nicolas, and enjoying a spa day at the Eurostar Gran Via Hotel.
Granada is also the perfect place to stay for hiking enthusiasts and you can easily reach hikes like Cahorros de Monachil, Veleta, and Lavaderos de la Reina. In the winter months, it is a short trip to go skiing in Sierra Nevada.
Where to stay: For a luxury stay with a spa in the center of Granada and Alhambra views, check-in at the Gran Via Hotel. For a budget stay, try ECO Hostel – it is a wonderful place to get to know other travelers.
Contributed by Linn Haglund of Andalucia Hiking
Alicante
One of the best cities to visit in Spain year-round is Alicante, on the Costa Blanca coast. This charming and peaceful town prides itself on its rich history, colorful buildings, gorgeous sandy beaches, and 3,000 hours of sun per year.
There are plenty of things to do in Alicante. On top of the hill overlooking the city, Santa Barbara Castle is the main sight in the town. It is one of Spain's biggest medieval fortifications from the 9th century when Muslims ruled the Iberian Peninsula.
The road to the castle passes through the Santa Cruz neighborhood, a lovely area full of white-colored houses adorned with colorful windows, balconies, flower pots, and doors.
Alicante is also famous for its beautiful cathedrals and churches, including a Roman Catholic cathedral, the Co-Cathedral of St. Nicolas, and the Valencian Gothic-style Basilica of St. Maria. This great Spanish city also has several galleries and museums to visit for art and culture lovers.
Where to stay: The town is relatively small in terms of sightseeing, and everything is reachable on foot. Therefore, staying a bit outside of the center is not a disadvantage. If you want to stay near the beach but at the same time be close to the center, the Estudiotel Alicante hotel is a great choice.
Explored by Baia from Red Fedora Diary
San Sebastian, one of the most charming small cities in Spain
While Spain is filled with some incredible cities and sights, from the funky architecture of Barcelona to the gorgeous beaches of Ibiza, one of the best cities to visit in Spain is undoubtedly San Sebastian.
Located in the northern and mountainous Basque Country, San Sebastian, or Donostia in Basque, is a charming coastal town celebrated for its incredible cuisine and stunning landscapes.
Things to do include visiting the San Sebastian Cathedral, exploring the Old Town district, relaxing on La Concha Beach, and admiring the breathtaking views from Mount Igueldo. This view alone makes San Sebastian one of the best cities in Spain!
While one can spend a lot of time exploring San Sebastian, two days is the perfect duration to explore the top spots, including visiting one of the eleven Michelin-starred restaurants. Overall, San Sebastian is an unmissable city on a Europe travel itinerary!
Where to stay in the charming city in Spain: There are also many places to stay in San Sebastian. Old Town is one of the most popular districts in San Sebastian, but Centro is the perfect place to stay, located conveniently close to the beach and the Old District. For hotels, Hotel Maria Cristina is a popular 5-star option, but there are multiple cheaper options too, including Hotel Niza and Hotel Avenida.
Explored by Mia, Walk a While with Me
Cadiz
You have to go all the way to the far south of Spain to find one of the oldest continuously inhabited cities in western Europe. The wonderful city of Cadiz boasts charm, tradition, and culture.
If you want to experience Andalusia, this is the place to go. Not yet affected much by tourism, but increasing steadily in popularity, it has saved itself from the charter tourism of nearby Malaga.
The best things to do in Cadiz include visiting the Santa Catalina Fortress and San Sebastian Castle, both witnesses of the city's importance as a defense city. Visit Cadiz's cathedral and climb the tower for a bird's eye view of the city and the glittering ocean lining the city's beaches.
Make time to get lost in the enchanting cobblestone streets, search for tapas in the lesser crowded streets, visit the food market, and have a cold beer in the sun.
To really soak in Cadiz and head to the sand-swept beaches up the coast, you should spend at least 2-3 days there. However, it is a great base for visiting nearby cities like Jerez de la Frontera, Seville, and El Puerto de Santa Maria.
If you happen to be there at the right time, Cadiz has one of the country's oldest carnivals.
Where to stay: Check-in at Pensión Cadiz right in the old town within walking distance of all the best bars and restaurants as well as the city's attractions.
Spanish city recommended by Linn Haglund, Brainy Backpackers
Cordoba
Cordoba, located in the beautiful region of Andalusia, is a city rich in culture that is worth adding to your Spain bucket list. It is one of the best cities to visit in Spain because although it can be seen in a day or two, its charm and architecture will amaze anyone.
Cordoba main's attraction, La Mezquita, is a UNESCO World Heritage Site. This mosque-cathedral has impressive architecture that consists of a combination of Islamic, Gothic, and Moorish architecture.
Another place that can't be missed on your Cordoba itinerary is Alcázar de Los Reyes Cristianos, a fortress that was one of the residences of Isabella I of Castile and Ferdinand II of Aragon.
One of the best times to visit Cordoba is May as there is a flower festival in which locals decorate Cordoba's Andalusian courtyards (known as patios).
Gastronomy is another important cultural aspect in Cordoba. Some of the traditional dishes are rabo de toro (oxtail) and salmorejo (a tomato cold soup similar to gazpacho).
Where to stay: When looking for accommodation in Cordoba, the NH Collection Amistad Córdoba is one of the best options. The hotel is located in the beautiful Jewish Quarter, very close to Cordoba's main attractions.
Explored by Cristina Reina from My Little World of Travelling
Girona
Girona is one of the nicest cities to visit in Spain, yet completely underrated compared to its most popular neighbor Barcelona. Yet, in more recent times the city has been getting increasing attention thanks to being a major budget flight hub and a prime filming location for Game of Thrones. 
Girona is the capital of Costa Brava, beautifully set between the Pyreneese Mountains (thus being a good starting point if you enjoy hiking); the Volcanic Region of Garrotxa; and the beautiful beaches of Costa Brava.
Should you decide to visit, you will find plenty of things to do in Girona. Make sure to wander around the historic center: there are plenty of colorful buildings, scenic plazas and lovely boutiques perfect for a shopping spree.
Walk along the river for views of the colorful buildings, then cross Eiffel Bridge (built by the same Eiffel who designed the Eiffel Tower!) to get to the City Walls, along which you can walk to get to the gorgeous Cathedral and its impressive staircase.
You should also plan to see the Jewish Quarter and the Arab Baths. Finally, take time to appreciate the many good museums and art galleries, and an incredible restaurant scene. The best restaurant in Girona is El Celler de Can Roca – make sure to book in advance!
Where to stay: Hotel Ultonia is a comfortable place to stay a short distance from the historic center.
City in Spain recommended by Claudia Tavani, My Adventures Across The World
Ronda
There is no denying that Ronda is one of the best cities in Spain. The town is only 100 kilometers away from Malaga and is located in the Sierra de las Nieves Natural Park. It is famous for its gorge right in the center of the town.
The El Tajo gorge separates the Old Town from the New Town. Taking a photo of the Puento Nuevo (New Bridge) is a must when visiting this small Spanish city. The bridge arches over the El Tajo gorge and is an impressive sight. The Aldeheula viewpoint offers one of the best views of the bridge.
The Plaza de Toros de Ronda is one of the oldest arenas in Spain and where modern bullfighting started in the 18th century. And while bullfighting is by no means ethical and something you should attend it is certainly interesting to learn more about its history.
The Ronda region is also known for delicious wine. There are wine tastings in town, but if the time allows it, a visit to one of the many wineries around the town is worth it.
Where to stay: For a stay right in the center of Old Town, the Catalonia Ronda is a great option. With an infinity pool, a hot tub, and a rooftop terrace, it has everything you need for a relaxing stay.
Explored by Emilie from Love Life Abroad
Fuengirola
Fuengirola is a lovely town on Costa del Sol, 30 minutes away from Malaga. What makes Fuengirola special is that it is a city and not a resort, and visiting it will give you a much more authentic experience than the popular beach hot spots along the South of Spain.
There are plenty of things to do in Fuengirola besides enjoying the beaches. The Sohail Castle, which overlooks the city, is often home to different festivals where you can taste local food and experience the local fiestas. The town also has a lovely harbor where you can book a trip to go and see wild dolphins in the Alboran Sea.
Another great attraction for families who visit Fuengirola is the Bioparc. This is an eco-park that recreates the natural environment of animals in Africa, Asia, and the islands of the Indi-Pacific Ocean, aiming to help conserve endangered animals.
Another fun place in this great small city in Spain is Aqua Mijas, one of the most popular water parks on Costa del Sol.
Where to stay: There are plenty of places to stay in Fuengirola. If you want to have beach views, check out the very affordable IPV Palace & Spa Hotel.
Explored by Joanna from Andalucia in my Pocket
Planning a trip?
Check out these useful websites and resources I use to plan my own adventures.
Roundup: The Best Cities to Visit in Spain
I am convinced that the cities above are certainly the best cities in Spain and that all of them are worth a visit. So plan your next Spain trip and maybe even combine two Spanish cities into one trip or plan a longer Spain road trip to see more of this amazing country. My road trip planning guide will help you plan the ideal road trip.
Planning to explore the best cities in Spain?
Pin this list of Spanish Cities for later!